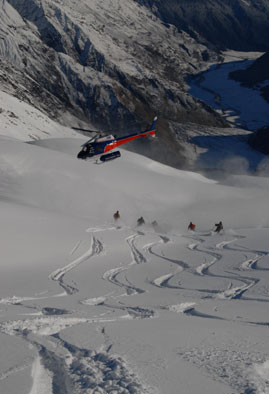 It's summer time up here, but the skiing is just getting started in New Zealand.
Harris Mountains heli
has been in operation for over 27 years, and being the largest heli-ski company in New Zealand has meant they have discovered the best heli-ski terrain available for heli-skiers and boarders to enjoy. They are a professional and dynamic Heli-Ski/Boarding operation and with years of experience they are able to offer a highly sophisticated safety infrastructure. They provide outstanding daily, multi-day and private charters heli-ski/boarding on our exclusive and expansive variety of terrain. Get rid of your summer blues, and go rip up the powder in the Southern Hemisphere.